College Dorm Party Ideas To Enjoy Your College Life 2023. Have you ever wanted to arrange a college dorm party that your friends would remember for years to come? College Dorm Parties: The Ultimate Guide provides advice on how to throw the best dorm party.
There are innumerable things you can do to make your college social life more enjoyable and memorable, but having a party with fantastic ideas is a perfect place to start. With that in mind, here are some of the top websites and applications offering practical advice on how to have the best time ever.
Dorm Room Decorations You'll Need for a Party!
College is dull, so your dorm room is the ideal location to make a statement. Cool decorations are not only entertaining, but they also make your dorm room appear as if you're getting ready to party at any time.
College Dorm Party Ideas To Enjoy Your College Life 2023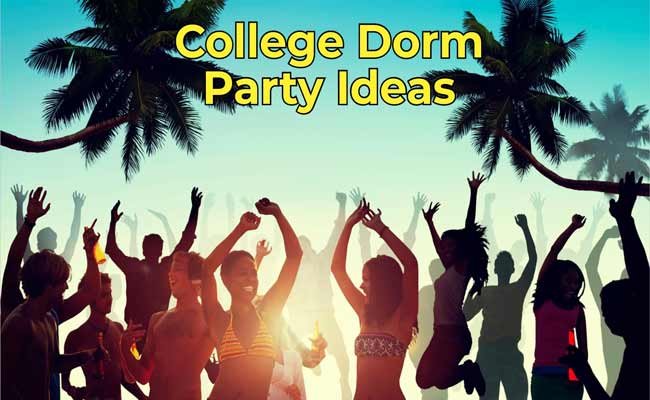 Who Says Colleges Can't Be Stylish?
A large part of college dorm party décor is made up of affordable objects that can be found at any big box shop. This list, only includes the nicest and trendiest products for your dorm room that are both inexpensive and effective.
Glow Stick:
If you're throwing a party, you'll need glow sticks! Glow stick bracelets are a terrific accessory to have, especially if they come in a variety of shades that you can mix and match to create different styles. Glow necklaces are also available.
Decoration:
If you're arranging a dance party, decorate your space with cotton balls and bright colours to create a joyful atmosphere for your visitors to enjoy. If you don't want people tripping over the furniture, make the area basic and safe by having brightly coloured walls and lighting.
Clothes Hanging Options:
There are many ways to hang your clothes, but the easiest choice is to get a few dollar store hangers. You may paint these hangers or simply wrap them in coloured cellophane.
Party Lights:
Because dorm rooms are sometimes quiet, try getting beautiful and brilliant lights that will not only improve the appearance of your room but will also create more environment for your friends to party with!
The Radio:
Not every gathering involves the use of a speaker system. If you're not a DJ and don't want to spend money on one, take a little radio and play it while your visitors dance. This way, no one has to yell above the music to hear what's going on.
Poster Board:
These final few items aren't truly dorm room decorations, but they'll come in handy in your dorm room long after the party is over.
Make a poster detailing your party ideas and hang it up after the party to remind you of how much fun you had. If you're holding the event later in the evening, make a timetable and identifiers on a poster board.
Go out and have a good time! College is a terrific time to have fun and discover your interests. You'll be able to look back on your college years fondly as long as you stay safe.
Dorm Party Ideas For A Better College Life!
Although a dorm room may become old and uninteresting, holding parties in it will make your college life a lot more enjoyable. Throw many groups at your college dorm if there are no rules against it, and have the time of your life with your pals throughout your first year of college.
There are several great things you may do while having a college dorm party, but the important idea is to do something entertaining and exciting for your buddies! If you need help, here are a few combinations you may try.
Combine them with some of your own suggestions, and you'll have a fantastic party!
Also Read: Beautiful Gift Ideas For All Your Beautiful Loved Ones 
Idea #1 Video Games and Food Pairing
A video game theme party is one of the most popular types of social groups. Video games, whether for a few or a large group, provide the ideal setting for a college party.
It has been stated that when individuals are having fun, they prefer to play video games. You may also use a video game theme to appeal to everyone if you want to attract more individuals. Furthermore, if you're throwing a theme party, you should start with the food.
Slumber Party
A college slumber party is an excellent social event and an easy method to boost your friends' relationships. With this in mind, why not arrange a sleeping party for your college friends? You may invite everyone to your dorm room for a sleepover.
A sleep party will provide you with the ideal opportunity to get to know the person you've met thus far. Further, if you hold a slumber party, it won't be difficult to come up with college dorm ideas for decorating your room.
Idea #3  Karaoke Night
Karaoke is a popular method to have a good time without breaking the wallet. If you have a good voice, singing night may be a lot of fun for everyone who comes. It doesn't need a sound system or any other type of music, so it's simple to throw a karaoke party.
Drink-Pairing Games for College Dorm Parties
If you're searching for methods to bring people together at college, drinking games are ideal. You may play a variety of beverage games at your own party.
You can assist your visitors relax and have a nice time by giving alcohol. Besides, there are several methods to have fun with alcohol. One of the finest suggestions is to encourage your guests to pair beverages and food.
The Ultimate College Dorm Party Planning Guide: How to Throw the Best Dorm Party Ever *
This article will teach you how to create the finest dorm party ever! What is college if not for a good party? I mean, isn't that the whole point of attending college?
I'm joking, of course. But, as a former college student who took 5 years to complete my degree (don't judge me), I've gone to a few wild dorm parties that I'll remember for the rest of my life.
What Is the Best Way to Host a Dorm Party?
Here are a few things to consider before holding a party in your dorm room.
Get on the good side of your RA.
It is difficult to throw successful dorm parties without having them shut down by your RA (resident assistant) minutes afterwards. So, my suggestion is to get to know your RA! Some RAs are kind and don't mind if you have a party as long as you keep the noise to a least. Yet, some RAs can be extremely rigid and refuse to allow any parties or alcohol in the dorm.
So, before holding a party at your dorm, double-check the policies and consult with your RA. The last thing you want to happen is to be written up!
Themes for College Dorm Parties
Dorm parties are often relaxed, with everyone wearing whatever they want. But, it may be a lot of fun to liven things up with a theme from time to time. Here are some suggestions to get you started:
Decades celebration (60s, 70s, 80s, 90s )
Party in your PJs
Hip Hop night Jazz night
New Year's Eve
Party in Ugly Sweaters
Angels and devils
Party for Sexy Nerds
Masquerade ball
Rock 'n' Roll
Denim-themed celebration
Rave rioter
Oh, and don't forget to snap photos! I love shooting throwaway photos on happy evenings like these because they always turn out so candid and the mood is always perfect.
Ideas for College Party Food and Drinks
If you give some food for your party visitors to chew on, they will love you. It doesn't have to be something costly. A little bite will be enough! You may even invite your visitors to bring snacks as their "entry fee," which would save you money on meals.
Here are a few common college party food suggestions:
Salsa & Chips
Sliders with ham and cheese
Strawberries Dipped in Chocolate
Donuts
Wrapped Tortillas
Hotdogs \sPizza (How could I have forgotten!)
Bites of Macaronni and Cheese
Mixture for a Party
Burgers with grilled cheese and French fries
A lot of dorms have a rigid policy. So here are a few non-alcoholic beverage ideas:
Lemonade with strawberries (recipe from Delish)
"No"jitos with watermelon (recipe from Taste)
Pina Colada (Virgin) (recipe from A Couple Cooks)
Mocktail of Frozen Peach Bellini (recipe from Spicy Southern Kitchen)
Sangria de cranberries et basiles (recipe from Delish)
Crush of Orange and Mango (recipe from Taste)
Cooler with Blueberries and Ginger (Cook with Manali recipe)
Create a Viral Spotify Playlist
A BOMB Spotify party playlist is essential for a successful college party. Of course, the sort of music you play will differ based on the theme of your party. However, having some Hip Hop oldies on hand will never go wrong. This is one of my favourite dorm party playlists! It has such great energy and always gets the crowd rocking!
This playlist is DEFINITELY for fans of Bay Area slaps!
It is also critical to have the correct speakers! Playing music from your phone or laptop won't work because… HELLO? What happened to the bass?
Without a question, JBL manufactures the greatest party speakers. The JBL Partybox 300 is great for large parties (like frat parties), but if you're throwing a dorm party for 20 people, this JBL model should suffice.
Dorm Party Games and Activities
If your guests don't know one another very well, playing games during or before the party is a great concept for everyone to become acquainted! Here are some games and activities that you should attempt during a college party.
The Traditional Beer Pong
Beer pong is the most basic but famous game you can play at a college party. I'm sure you've seen that in all those "coming-of-age" Hollywood college movies, haha. All you need is a large table and a few red cups, and you're ready to go. Do you not understand the rules? Here's how to do it.
I've Never Played a Drinking Game Before
"Never have I ever" was also a game we widely played at gatherings. It's an icebreaker for sure, and things may become a little vulgar (just a heads up). You can play either the family-friendly or the adult version. Whatever suits the mood you're looking for.
The Bottle Should Be Repositioned
I'm sure we've all heard of the game "spin the bottle." When combined with a little amount of alcohol bravery, this game can turn really entertaining and chaotic LOL! This is a terrific pre-game exercise to get everyone warmed up and the celebration started!
Cup-Flipping
One of my favourite college drinking games is flip cup. It's played like a relay race, with each teammate drinking a cup of beer and then attempting to flip the cup upside down before passing the cup to the next person. Here's how to play the game, according to Wikihow. It's a lot of fun, and if you've never tried it before, you should!
Decorations for a College Party
With these very charming party décor ideas, you can turn your dorm room into the coldest location on campus!
Slog fest Tapestry No. 1
What better way to greet your party attendees than with this very relatable tapestry?! College students are very simply a group of folks who don't know what's going on 90% of the time but still know where the party is.
Glittering String Lights
These bright string lights are a must-have in any college dorm room. Most importantly, they serve as an excellent backdrop for adorable polaroid party photographs!
Neon Signs
Do you like your party to have a more sleek and minimalist feel? These neon lights might be worth striving for! They're adorable and may provide a soft shine to your space.
Disco Lights for a Party
These disco lights would be ideal for a party themed in the 1970s or 1980s! It may be held in place, floor, or on other surfaces. It even features a sound-activated option where you can sync the colours to music!
Have a good time and don't go too crazy!
College parties are supposed to be wild and exciting! But here's a word of caution: don't go too far since you could regret it the next day. Especially if you have an 8:00 a.m. class:) Believe me, I've been there. NOT AT ALL FUN! (In my morning math class, I was SO DRUNK that I almost fell off my chair hahaha)
Remove all paraphernalia
Yes, some college juniors and seniors are over the age of 21 and so have the legal right to drink and smoke. Most (if not all) dorms, yet, have a zero-tolerance policy about drinking and drugs. So! If you don't want to get in trouble, please put these items away… at least when you hear the RA approaching.
Don't Make Mistakes You'll Regret
Beer goggles are real, you guys! Don't just kiss the first person you encounter at a party. If you find someone cute, make sure they're REALLY cute by asking your pals!
Okay, I'm not going to encourage you to drink or smoke. But! If you do decide to do these things, make sure you don't drink or smoke from unknown sources. Haha, I know that seems strange. But make sure you drink from your own cup and keep an eye on it at all times. Don't take anything a stranger offers you since you don't know what they put in it.
So, babes, use sunscreen and keep hydrated!
Understand Your Limits
Throwing up after drinking too much is the WORST sensation on the planet. If you know that three beers is often your limit, don't give in to peer pressure and push yourself to have another. Know your limitations! Seriously, you'll be grateful to me afterwards.
Don't mix your beverages, by the way. Don't take a shot of Tequila if you've been drinking Vodka the entire time. It'll F U up, believe me!
That's all there is to it, besties! Everything you need to know about having great dorm parties in college, as well as what you should be careful of!
PRO TIP: You can easily "party hard and study hard!" But, if your body is unable to take it, please relax! If you've just pulled an all-nighter the day before, don't force yourself to go out and party. Girl! No one will criticise you if you stay at home and relax!
Partying is an important aspect of the college experience, but it should not be the only thing you do. Aside from partying, join groups, attend office hours, study at the library, hang out with your housemates, volunteer, and live your best (and most balanced) life on campus.
Have a great time and remain lovely!